Best Crypto Trading App in India: More traders are becoming interested in exploring the potential of crypto assets due to their increasing market cap. They are important growth drivers for this business since they are assets connected to real-world possibilities. You must register with a cryptocurrency exchange before you can begin trading cryptocurrencies. Researching the best Bitcoin exchanges is necessary to do this.
The top crypto exchanges in India are listed here to aid you in selecting the one that best suits your investing objectives. Before getting into it, let's first look at cryptocurrency trading.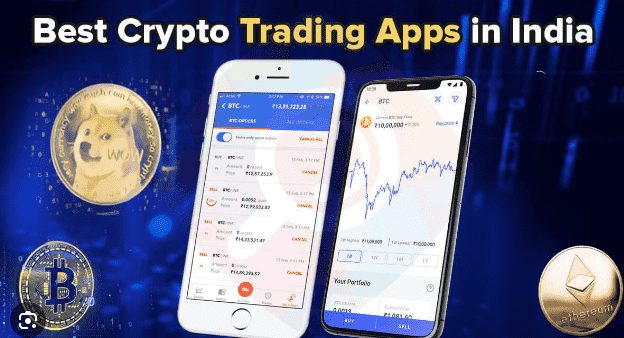 A cryptocurrency exchange is what?
An online marketplace where you can buy, sell, or trade cryptocurrencies is known as a cryptocurrency exchange. The best cryptocurrency exchanges nowadays significantly simplify investing in these assets for both experienced and novice investors. Before the creation of cryptocurrency exchanges, traders could only purchase cryptocurrencies by mining them or setting up trades through an online forum.
Thinking about your investment objectives and risk tolerance before investing in cryptocurrency through these crypto batter exchanges.
Top Crypto Trading App in India
CoinSwitch
One of the most well-known Crypto Trading App in India is called CoinSwitch. CoinSwitch does not, however, operate its exchange like some other conventional exchanges do. Instead, the website links various cryptocurrency exchanges to give investors the best exchange rate.
Coins Available: More than 100 crypto
Fees for trading: 0% to 5%
Investment requirement: 100
BuyUCoin
Because of its user-friendly layout, BuyUCoin is a well-liked cryptocurrency exchange among millennials. The exchange provides features like live spot trading, a no-cost wallet, rebates, and lifelong referral commissions.
Available Cryptocurrencies: 130+
Investment requirement: $20
CoinDCX
India's largest cryptocurrency exchange is thought to be CoinDCX. The products on offer were created with all types of traders in mind, considering their level of trading experience, risk tolerance, and trading frequency.
Available cryptocurrency: over 340
Fees for trading: 0% to 5%
Investment requirement: 100
WazirX
WazirX, one of India's most rapidly expanding cryptocurrency exchanges, provides a large selection of coins at affordable trading costs. Additionally, the company has a referral program that offers users a 50% commission on every trade.
200+ crypto assets are accessible.
Investment requirement: 100
Bitcoin
Through several research reports and Bitbns Academy, this cryptocurrency exchange is well known for teaching crypto investors. Crypto Trading App portal currently lists more than 400 cryptocurrencies. Additionally, the site offers several referral schemes to both new and current customers.
400+ crypto assets are accessible.
Fees for trading: up to 0.25%
Investment requirement: 100
Conclusion
Top cryptocurrency exchanges have recently emerged due to the growth in cryptocurrency prices. However, the abovementioned considerations should be part of your quest for the best cryptocurrency exchanges.